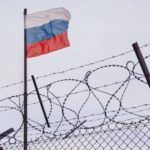 A former American serviceman detained in Russia since April was released on Thursday. The family of Navy veteran Taylor Dudley, 35, said he safely crossed into Poland after being released by Russian authorities at the Polish border. Dudley was originally detained in April while backpacking after he crossed the border from Poland into Russia.
The Richardson Center, a non-profit organization founded by former New Mexico Gov. Bill Richardson, helped secure Dudley's release.  According to its website, The Richardson Center promotes global peace and dialogue with countries and communities averse to formal diplomatic channels. Richardson said in a statement: "It is significant that despite the current environment between our two countries, the Russian authorities did the right thing by releasing Taylor today … The negotiations and work to secure Taylor's safe return were done discreetly and with engagement on the ground in both Moscow and Kaliningrad and with full support from Taylor's family back in the United States."
Dudley was joined in Poland by a Richardson Center representative, as well as his mother for the journey home. Said Richardson: "And as we celebrate Taylor's safe return, we remain very concerned for Paul Whelan and committed to continue to work on his safe return, as we have been for the last four years, as well as other Americans." Whelan, a former U.S. Marine, remains in Russian custody. He has been there since he was arrested in a Moscow hotel in 2018 and later convicted of espionage charges. The United States continues to assert that he is being wrongfully detained.
Editorial credit: diy13 / Shutterstock.com