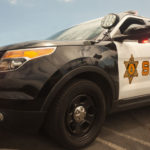 California authorities confirm that on Monday six people were shot to death in a suspected drug-related "massacre" that included a 17-year-old mother and her 6-month-old baby. The shooting took place in a residential area of Goshen, located about 40 miles northwest of Fresno, Calif., in the Central Valley.
Tulare County, Calif., Sheriff Mike Boudreaux told reporters they received multiple calls of shots fired shortly before 4 a.m. Monday in the town of Goshen. Callers reported a possible active shooter situation due to the number of shots fired. Sheriff Boudreaux said two victims of what he called a "massacre" were found dead when deputies arrived shortly after the gunshots were reported. A third victim was found in the doorway of a home where shots were heard, and police found more victims inside the home, including one male victim who was found alive but later died at the hospital.
No arrests have been made as of press time.  Boudreaux said the mother and child were shot in the head, and added that authorities believe there are two suspects involved in the shooting.  Said Boudreaux: "We also believe this is not a random act of violence. We believe this was a targeted family. We believe that there are gang associations involved — as well as potential narcotics investigations." He added that search warrants for a drug probe were executed at the residence about a week ago, and said detectives have information that they are hopeful will lead to arrests.
Editorial credit: Elliott Cowand Jr / Shutterstock.com