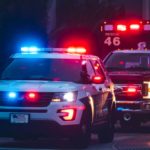 No arrests have been made in a shooting that took place after an event honoring Martin Luther King Jr. in Florida on Monday, in which one person was killed and seven others were wounded.
According to St. Lucie County Chief Deputy Brian Hester, after the MLK Jr. parade on Monday at about 5:20 p.m., a disagreement occurred at an after-parade party, which led to the shooting. One of the victims, an unidentified 29-year-old woman who was attending the party with her 6-year-old daughter, has since died from their injuries. At a press conference, Hester said, "It's really sad in a celebration of someone who represented peace and equality that a disagreement results in a use of guns and violence to solve that disagreement. And then so many innocent people who were injured or hurt and were not part of the disagreement as well."
Sheriff Ken Mascara said at a news conference on Tuesday: "What was a shooting investigation has turned into a murder investigation."  The sheriff's office also told the outlet that the parade was attended by more than 1,000 people. Two deputies were at the scene and quickly responded to the shooting at the party, according to the sheriff's office. Chief Deputy Hester told reporters on Tuesday that evidence supports that this shooting was between two local rival gangs: "It was mass chaos as you can imagine when shots rang out. There were a thousand plus people here at the event, and as the shots rang out, people were just running in all directions."  Those with information related to this incident are asked to contact St. Lucie County detectives or call Treasure Coast Crime Stoppers at 1-800-273-8477.
Editorial credit: Artiom Photo / Shutterstock.com